ANTILLES
ISBN No:

Pre-ISBN

PRICE GROUP:

C

READING LEVEL

All ages
Antillean Fish Guide
Stinapa No. 7 by Bart De Boer , Dick Hoogerwerf , Ingvar Kristensen and Jankees Post. Covers fishes and turtles. Illustrated with 183 drawing engravings. Published 1973 , no other printings Caribbean Marine Biological Institute. 110 pages. Measures 9.5 x 6.25 inches. Covers a bit scuffed. In otherwise very good condition. MULTILINGUAL FISH NAMES
Our Price £17.90 including Postage
VERY RARE BOOK
Great reference for children, scuba divers, and snorkelers or those--wishing to be in the ocean. Sized 8 3/4" by 5 3/4".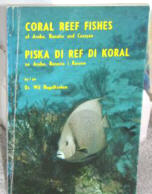 VERYRARE
ISBN No:
PRICE GROUP:
D
READING LEVEL
Coral Reef Fishes of Aruba, Bonaire and Curacao
This book is BILINGUAL in English and Papiamentu--published by the Island Territory of Curacao. by Dr. Wil Nagelkerken. At 125 pp. it has light wear, solid binding an lots of colour photos of wildlife as seen in the ocean.
Our Price £20 including worldwide postage