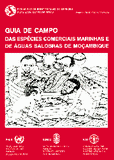 Mozambique
ISBN No:
PRICE GROUP:
G
READING LEVEL
All Ages
Field Guide to the Commercial Marine Resources of
Mozambique
IN PORTUGUESE
Este guia de campo inclui espécies de peixes ósseos, marinhos e de águas salobras, tubarões, raias, lagostas, camarões, caranguejos, estomatópodes, cefalópodes e tartarugas marinhas coni interesse comercial em Moçambique.
£85.00

EAST SOUTHERN AFRICA
ISBN No:
9781868259816
PRICE GROUP:
B
READING LEVEL
All Ages
Cheaper than

Reef Fishes and Corals: East Coast of Southern Africa: Seychelles, Mauritius, Comores, Madagascar & East Africa:
King, Dennis
Struik Publishers, 1997. Very good photo-illustrated Pb.
£7.99 post paid in the UK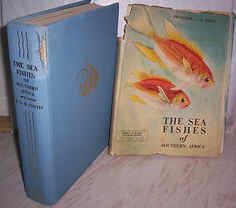 ISBN No:

Pre ISBN

PRICE GROUP:

F

READING LEVEL
Sea Fishes of Southern Africa
by Professor J.l.b.Smith Published by : - Central News, South Africa,
5th Edition. 4to - over 9¾ - 12" tall.
580pp illustrated colour & b/w drawings. 4to. A comprehensive work representing a lifetime of study by the author. blue covers with gilt lettering to the spine gilt decorations to both the front cover & spine - illustrated endpages . Damage to Dust cover and top corner of spine.

£30.00 plus £13.90 Registered first class postage