Very rare document - The BOUND HARDBACK PREDECESSOR to Alwyne Wheeler's "Key" in Paperback
Our second copy is an ex-library and well-worn copy with some spinal damage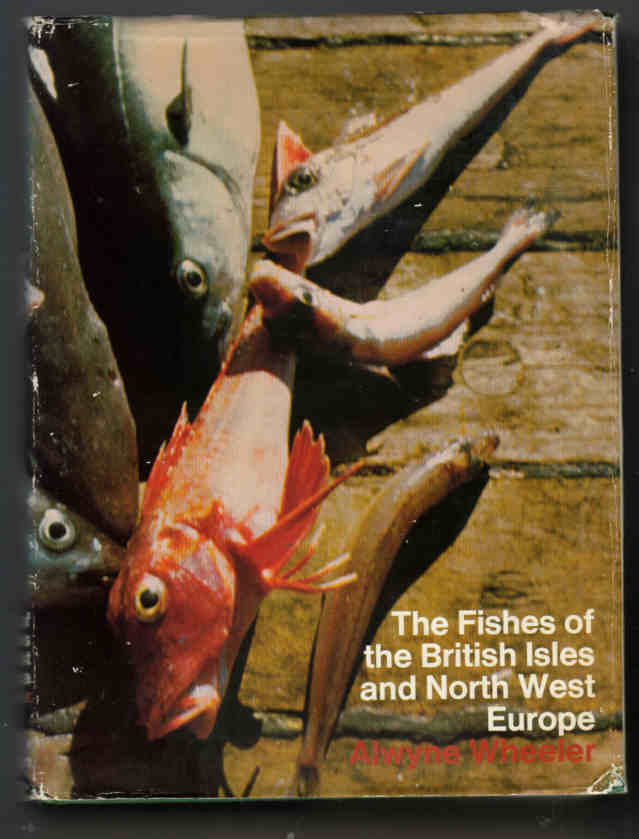 ALWYNE BRIT VGC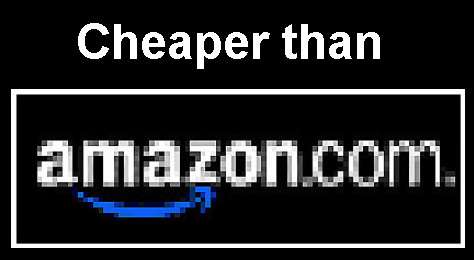 ISBN:


Price Group:

H

Reading Category:

Over 15 years
WE HAVE TWO COPIES OF THIS VERY RARE TITLE
The Fishes of the British Isles and North West Europe by Alwyne Wheeler.
HARDBACK . 1969 Octavo 614 pages. Fully Illustrated. with area maps on each species
By the foremost Curator of Fishes at the British Museum (Natural History) - an expertly written guide by a foremost authority.
(1) Very Good Condition Our Price £65.00 plus £7.50 insured registered delivery. ORIGINAL Dust Jacket
(2) Slightly Poorer condition Our Price £45 including insured Registered Delivery. Dust Jacket is not an original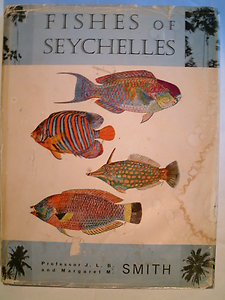 A superb fully illustrated heavy and large format publication
SEYCHELLES
ISBN No:
Pre ISBN
PRICE GROUP:
G
READING LEVEL
All Ages
FISHES OF SEYCHELLES
J.L..B. and Margaret Smith Dept. Of Ichthyology Rhodes Univ., Grahamstown, S. A., 1963. Hard Cover. Book Condition: Fair. Dust Jacket Condition: Fair. A reading/research copy. It appears someone has already had to book out to sea with them. covers a bit worn, tatty dust jacket is stuck to covers, but should be able to be removed. No pages stuck together, no names, underlining, etc. sold 'as is'
£45 plus £6.80 U.K.Postage
1st Edition. The comprehensive scientific guide to the fishes of circum-Antarctic Southern Ocean. Fishes of the Southern Oceans provides accounts of the taxonomy, biology and distribution of all Antarctic fishes.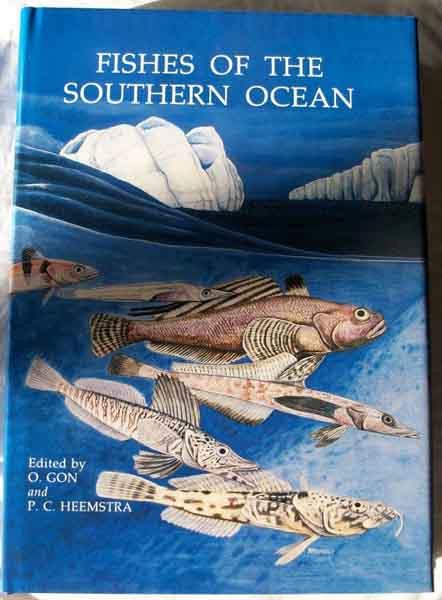 SOUTHERN OCEAN
ISBN:
ISBN: 0868102113 / 0-86810-211-3
PRICE GROUP
G
READERSHIP AGE RANGE:
FISHES OF THE SOUTHERN OCEAN
Gon, O & Heemstra, P.C. (editors )
J L B Smith Institute of Ichthyology, Grahamstown, 1990. Cloth.
The introductory chapters include an historical review of Southern Ocean ichthyology a review of Antarctic oceanography, and a general introduction to the fishes of the Southern Ocean, including the origin and composition of the fauna, their peculiar adaptations to cold conditions, and their conservation and exploitation. The systematic section includes keys for the identification of all families, genera and species of Antarctic fishes. All but three of the 272 species and subspecies are meticulously illustrated, and their geographical distribution is shown A glossary explains the technical terms used in the book, and a comprehensive bibliography and scientific index are provided. xviii, plus 462 pp. Maps on ends., plus drawings and further distribution maps throughout
Our Price £88 includes Recorded UK Postage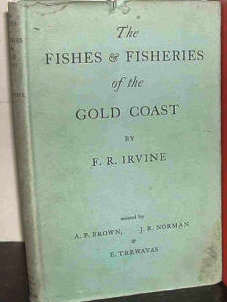 Pre ISBN
PRICE GROUP:
G
READING LEVEL
The Fishes and Fisheries of the Gold Coast
F. R. Irvine, 216 illustrations and an "Account of the Fishing Industry," by A. P. Brown and "Classification & Keys for the Identification of the Fishes," by the late J. R. Norman & E. Trewavas, British Museum (Natural History).The Crown Agents for the Colonies, of London, 1947 FIRST EDITION.
£95 plus £3 part UK postage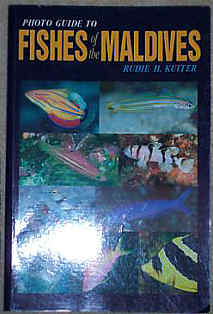 PHOTOMALDIVES
ISBN No:
1 87641018 3
PRICE GROUP:
G
READING LEVEL
All Ages
Cheaper than

PHOTO GUIDE TO THE FISHES OF THE MALDIVES
Rudie H. Kuiter

A photographic guide to almost every fish that divers are likely to see in the Maldives. Basic fish science, behaviour and evolution are explained and detailed drawings of fish features, shapes and colours are included.

260 pages and over 1250 illustrations

£51 plus £7 UK Recorded postage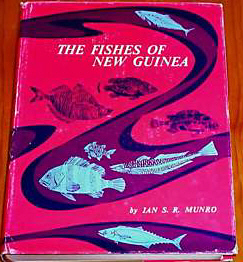 NEW GUINEA
ISBN:
Price Group:
G
Reading Category:
18 plus
Lower price than:

THE FISHES OF NEW GUINEA by Ian S Munro
A VERY RARE TITLE
Dept Agriculture, Stock and Fisheries Port Moresby New Guinea 1967. First edition. Illustrated boards, colour & b & w plates, line illustrations, 650pp + 78 plates. F/o inscription o/w very good condition plus dust cover.lightly stained spine inside.
Our price £59.50 including UK postage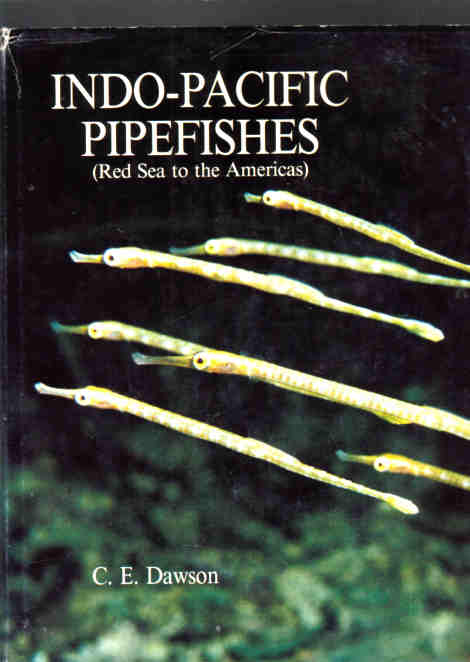 DAWSON PIPEFISH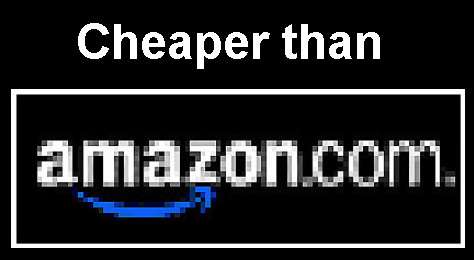 ISBN
0 917235 00 2
Lower price than
:

Indo-Pacific Pipefishes (Red Sea to the Americas) published by the Gulf Coast Research Laboratory HB. DJ Intact.1985 by C.E.Dawson.pp 230
The DEFINITIVE STUDY OF PIPEFISHES FOR THE AREA
Comprehensively illustrated. Rare Out-of-print book
One copy only £58.00 plus £5 UK postage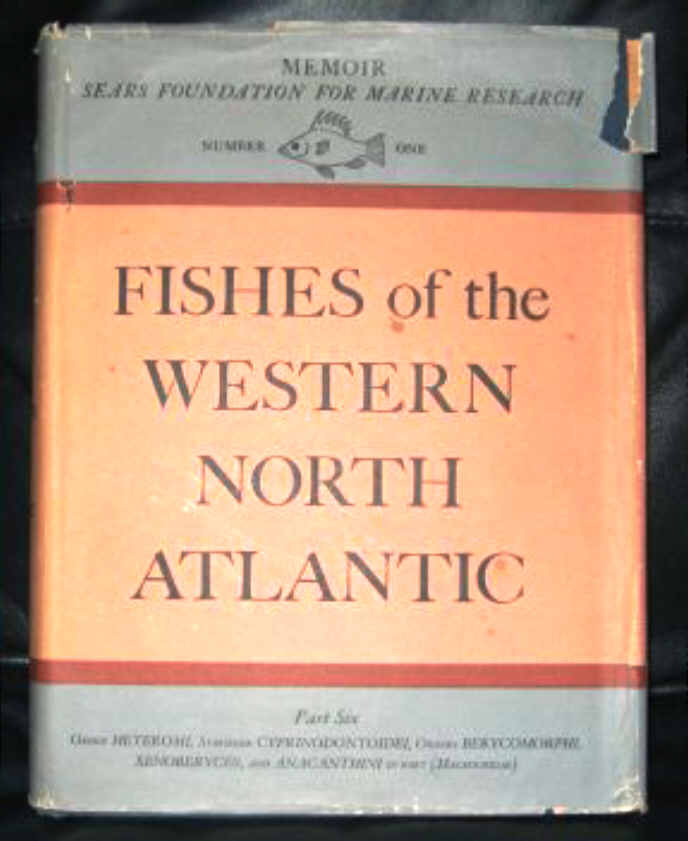 FWNA1 to 6
Pre ISBN
PRICE GROUP:
H
READING LEVEL
All levels
Lower price than:

FISHES OF THE WESTERN NORTH ATLANTIC - PART ONE TO SIX
Bigelow, H. B., et al.
Sears Foundation for Marine Research. 1948-73, 1948. 6 parts with b/w. illustrations throughout. Original cloth bds. Vol.1 lacking dw, Vol.2 dw. torn with considerable loss. The remaining dw's have minor wear, o/w. a vg. set Price:
£ 350.00 plus £12.00 UK Recorded Postage
Modern Image courtesy of Google. This title is ALSO available as a reprinted GoogleBook

ZANZIBAR ORIGINAL 1866
ISBN:

Price Group:

H

Reading Category:

Over 15 years

1866
The Fishes of Zanzibar,
ORIGINAL EDITION
by Albert Carl Ludwig Gotthilf Gunther, Robert Lambert Playfair
John van Voorst,, London:, 1866. Binding is Hardcover. 21 lithographed plates (6 hand-colored; 2 are loose; a dampstain to a lower blank corner of most, not affecting images; minor foxing to a few) and 10 engravings in text. 4to, pp. xiv, 153, original cloth (faded; 3 corners lightly bumped; tips of corners worn; some splitting to lower front edge & upper rear edge of spine; paper residue to margin of rear cover near spine; minor spotting to heel of spine; a short tear to ends of spine; paper on front inner hinge cracked; owner's handstamps to front flyleaf, title & a page; an inner joint partially open; a small piece missing from upper blank margin of a page; a short marginal tear to a page). Rare. Describes fishes off the east coast of Africa. Wood p. 520;
Our Price £1,800.00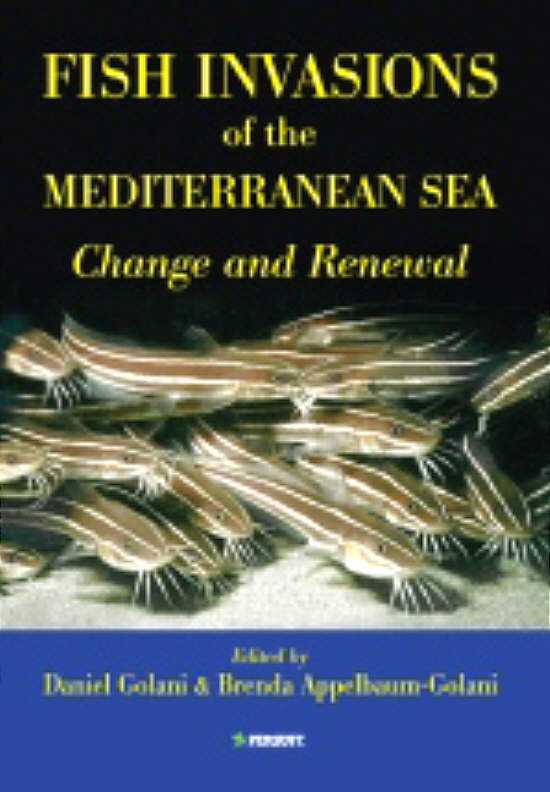 LESSEPSIANS
ISBN:
Price Group:
G
Reading Category:
FISH INVASIONS OF THE MEDITERRANEAN SEA
Golani and Golani
2009
JUST ARRIVED/More details to follow
Our price NEW £85 including worldwide registered postage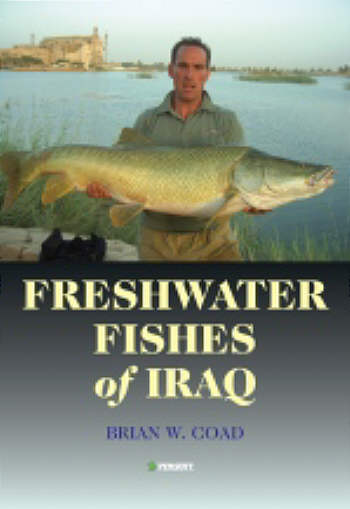 IRAQ 2009
ISBN No:
978 954642530 0
PRICE GROUP:
G
READING LEVEL
All
FRESHWATER FISHES OF IRAQ 2009
Brian Coad
This new work covers the species in the area in detail with illustrated keys for their identification, complete checklist and bibliography. Gives data on common names, key characters and morphology, distribution, habitat, biology, economic importance and conservation. NEW. £67.50 including worldwide recorded postage
EXTREMELY RARE DOCUMENT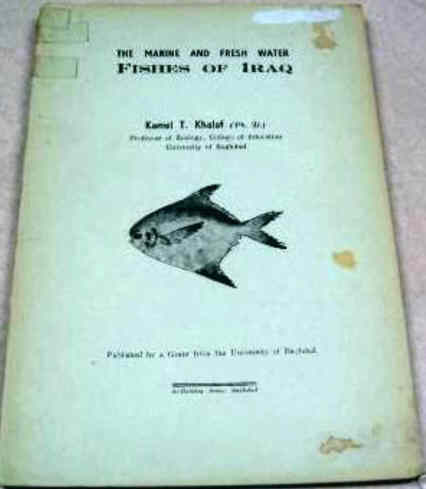 هدفنا هو نسخة عن أضرار طفيفة لكنها لا تزال أساسا لتغطية الجبهة البحرية مقروءة كاملة غير منقوصة السمك العراق عن طريق الماء العذب كامل T. خلف استاذ الحيوان, كلية التربية بجامعة بغداد نشرتها لهذا الغرض منحة من جامعة بغداد-تموز/يوليو, 1961, الوثائق rabitta الصحافة baghdad--softcover-- 164 صفحة تشمل مؤشر-softcover-الداخل نظيفة ضيق ملزم-الغطاء ومسجلة ملطخة-مكتوبة بخط اليد لقب وعموده الفقري-ببعض وفصل الملزم من الغطاء الذي يسهل ب
Iraqifish
ISBN No:
PRICE GROUP:
H
READING LEVEL
All ages
The Marine And Fresh Water Fishes Of Iraq
A Near-Perfect bound ex-library copy ( not the COPY illustrated)
by Kamel T. Khalaf, Professor Of Zoology, College Of Education, University Of Baghdad-Published by a Grant from the University Of Baghdad--July, 1961, Ar-Rabitta Press, Baghdad--Softcover--164 Pages Including Index-
£528.99 inc worldwide postage.
WESTAFRICAN 12
ISBN No:
0 582 60426 5
PRICE GROUP:
G
READING LEVEL
All ages
Cheaper than

WEST AFRICAN FRESHWATER FISH
by M. Holden and W. Reed
In the series West African Nature Handbooks by Longman. 1972 Succinct, very well illustrated little pocketbook listing species, catching methods and some advice on keeping these fishes in aquaria
Our Price including UK postage £23 50

FAO 8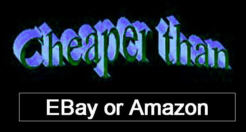 ISBN No:
PRICE GROUP:
G
READING LEVEL
An Annotated and Illustrated Catalogue of Cods, Hakes, Grenadiers and Other Gadiform Fishes Known to Date.
ISBN 9251028907 FAO Species Catalogue Vol.10. 1990. 30cm. Pp.x,442. 828 figures & maps , keys Hardbound. Provides a convenient means for the identification of gadiform species most likely to be encountered by fisheries workers, and to illustrate the wide diversity of this group of fishes. Price: £51.00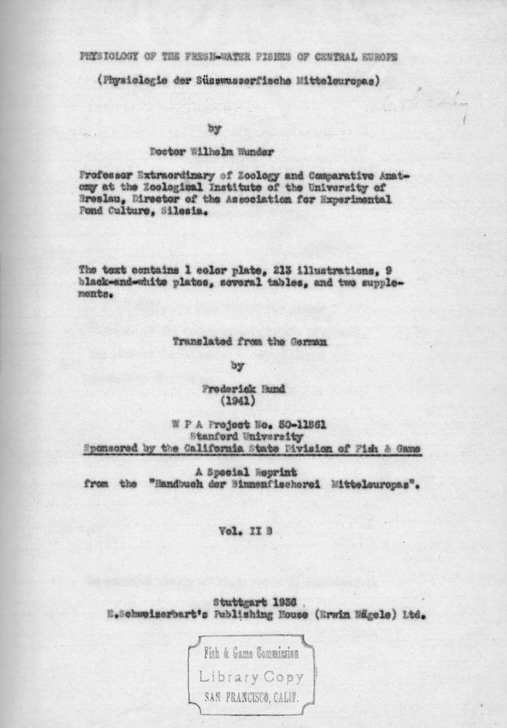 PHYSIOLOGY
AN EXTREMELY RARE DOCUMENT (Note publication year!)
Minimum Reading Age
18+
Physiology of the Freshwater Fishes of Central Europe.
by Wilhelm Wunder. Translated by Bund for Stamford University/Published by California Fish and Game.
A 1941 typed official translation of the original published 1936 German document. Our price £51 plus £4.60 postage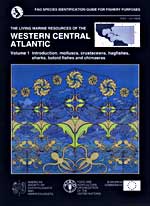 MARCENAT
ISBN No:
PRICE GROUP:
G
READING LEVEL
The Living Marine Resources of the Western Central Atlantic. THE SET OF 3 VOLUMES
Individual Volumes are also available
Volume 1. Introduction, Molluscs, Crustaceans, Hagfishes, Sharks, Batoid Fishes and Chimaeras. Volume 2. Bony Fishes, Part 1 (Acipenseridae to Grammatidae). Volume 3. Bony Fishes, Part 2 (Opistognathidae to Molidae), Sea Turtles and Marine Mammals. FAO. 2002. 3 volumes. 30cm. Pp.614; 782; 758. Paperback.This three volume field guide covers the species of interest to fisheries of the major marine resource groups exploited in the Western Central Atlantic. The area of coverage includes FAO Fishing Area 31. The marine resource groups included are the bivalves, gastropods, cephalopods, stomatopods, shrimps, lobsters, crabs, hagfishes, sharks, batoid fishes, chimaeras, bony fishes, sea turtles and marine mammals.
Price £97.50 plus £8.50 postage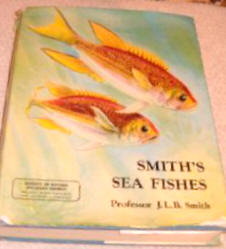 Smith's Sea Fishes 2
ISBN No:
PRICE GROUP:
B
READING LEVEL
*****

Smith's Sea Fishes 


by Professor J.L.B.Smith of Coelacanth fame.

VALIAN PUBLISHERS 1977 PREVIOUSLY PUBLISHED AS THE SEA FISHES OF SOUTHERN AFRICA . 580 PAGES NUMEROUS COLOUR AND BLACK AND WHITE ILLUSTRATIONS. VERY CLEAN INTERNALLY THE DUSTCOVER HAS SOME CHIPPINGS AND SOME TEARS TO EDGES. 
Our Price £66.95 plus £5.90 postage

FAO 15
ISBN No:
PRICE GROUP:
G
READING LEVEL
Field Guide to the Commercial Marine and Brackish Water Resources of The Northern Coast of South America
ISBN 9251031290
FAO. 1993. 28cm. Pp.538. colour photos, line illustrations. Paperback. This field guide covers the major resource groups likely to be encountered in the fisheries of the area. An annotated checklist of sharks, batoid fishes, chimaeras, bony fishes and marine mammals as well as a list of important references are appended. The introduction and guide sections are fully indexed.
Price: £68.00
We anticipate that the atlas will be useful in studies of biogeography, systematics, and ecology, and to persons involved in fisheries management and environmental assessment. It should also be quite important to educators, and to fishermen and general outdoorsmen in the United States and Canada.
ATLAS
This book is in good condition with a slight amount of wear to the binding. It measures 8.5 x 11 inches, has 854 pages with glossary. It is profusely illustrated with range maps and line drawings or black & white photographs
ISBN No:
PRICE GROUP:
G
READING LEVEL
Lower price than
:

ATLAS OF NORTH AMERICAN FRESHWATER FISHES
Edited by David S. Lee et al.

This atlas attempts to summarize available distributional information on all the freshwater fishes of the United States and Canada, and to provide some information on their biology. Although the many needs for such a volume have long been obvious, only in the last few years has a work of this nature been feasible. The large number of regional faunal works that have recently appeared, the publication of cumulative locality records, and the expansion of museum and other ichthyological collections provide extensive and reasonably complete data for most North American species. Thus, a "first approximation" atlas is now possible.
The desirability of this compilation is perhaps best attested to by the large number of individuals from many agencies and institutions in both countries who volunteered their services to make it a reality. Probably no other single zoological work has been so willingly supported by such a wide spectrum of enthusiastic contributors.

Our Price £50.00 plus £6.50 part postage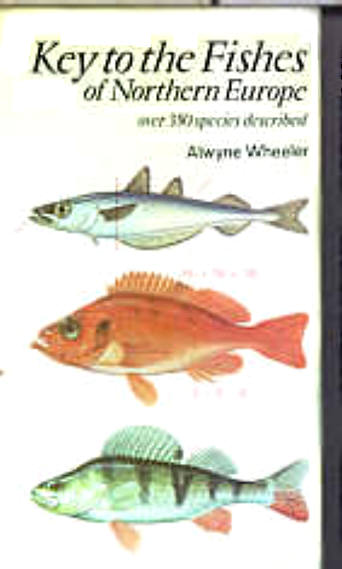 WHEELERKEY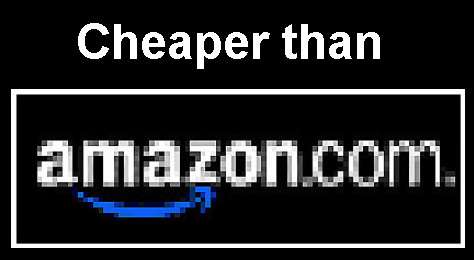 ISBN:
Price Group:
G
Reading Category:
Lower price than:

KEY TO THE FISHES OF NORTHERN EUROPE
by Alwyne Wheeler. This must be the most popular and hardest to obtain book on fishes in the United Kingdom.
£55.50 including UK recorded Postage

MOYLE 3
Now reduced in price. Go to TAXONOMICS page For a sUper deal on this title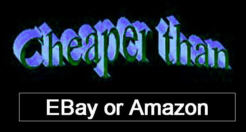 ISBN:
Price Group:
H
Reading Category:
Fishes: An Introduction to Ichthyology. by Peter B. Moyle et al.
Hardcover: 590 pages (1995) 3rd Edition
Very similar a lesser priced edition on our main Taxonomics page.
Prentice Hall
$118.25 (US) plus postage ( Will be posted from US) NOW REDUCED -see opposite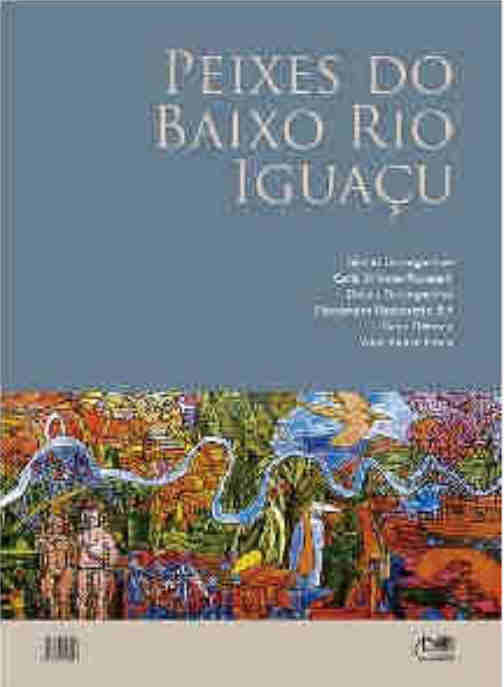 RIO IGUACU
ISBN No:
857628426X
PRICE GROUP:
G
READING LEVEL
FISHES OF THE RIO IGUACU (in Portuguese)

2012. HB. pp204

Fully comprehensive illustrated compendium of the fish species in the area

£79.00 post paid worldwide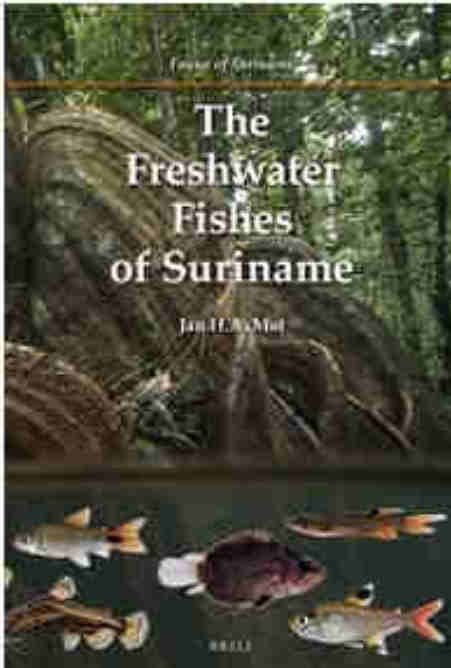 SURINAM
ISBN No:
9789004210745
PRICE GROUP:
G
READING LEVEL
The Freshwater Fishes of Suriname
Jan H. Mol

NEW Paperback Brill, Leiden, 2012. (Building on ichthyological studies initiated in the 1960s by the Brokopondo Project,) This book provides a complete introduction to all the freshwater fishes of Suriname, including identification keys, photographs of the species and full descriptions of their habitats,

One unopened returned copy at less than cost price!£59.00 plus £6 Recorded postage

New HARDBACK VERSION £155.00 Post paid in U.K.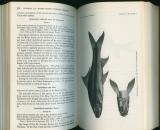 ISBN:
9788173714092
8173714096
Price Group:
G
Reading Category:
All ages
The Freshwater fishes of Siam, or Thailand
Smith, Hugh M.

Smithsonian Institute, 1965. Hardcover. Book Condition: Near Fine. No Jacket. This 1965 reprint of 622 pages provides detailed information on the fish of Siam. Many line drawings and a photograph supplement the text. There was no dust jacket as issued, but the green cloth cover with gold print is in near fine condition with only slight bumping at the spine ends

Our Price £54.50 including worldwide postage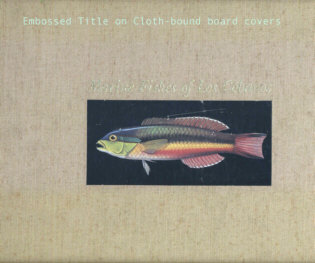 Our scanner does not do justice to this superb publication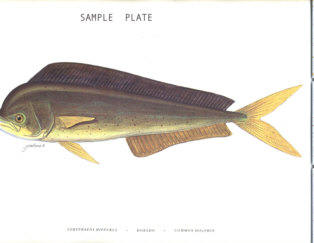 SALVADOR
ISBN No:
PRICE GROUP:
G
READING LEVEL
Marine Fishes of El Salvador (Los Cabanos)
in English
pp14x11 126 pages Embossed cover. Cloth bound HB. A superb range of full page lithograph plates by Juan Amador, (Division of National Parks of El Salvador ) Published by the Sigma Foundation. New York.1985. Absolutely beautiful Rare Book with 50 amazing full page full plate illustrations.
£56 including postage to UK