contact details, company infoRMATION , delivery policy, terms & conditions and privacy policy

The first members of the Calypso group were Calypso Publications .
The Calypso Online Fish Bookshop is a wholly owned subsidiary of Calypso Publications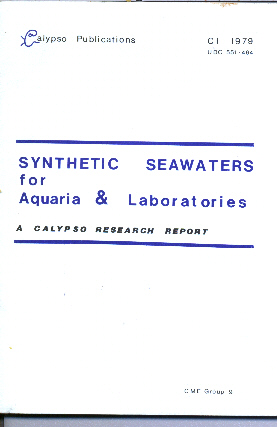 Registered at London 2225933 1978 .
In Addition To This Calypso Group Member Listing Each Calypso Organization Group Member Has Their Own Website
The Calypso Organization is a group of environmentally friendly companies and businesses established in 1979 by Gerald Jennings in London.
Due to its initial connections with the worlds of marine biology and the Mediterranean islands of Malta and Gozo (Ogygia) the name Calypso was adopted. The famous research vessel owned by Jacques Cousteau was also named after this legenday Greek sea nymph.
The Group currently (2016) comprises:

1. A specialist publishing house - Calypso Publications
2. A specialist bookshop - The Calypso Online Fish Bookshop
3. A marine biological research branch - Calypso Research
4. The Calypso Photolibrary
5. An IT consultancy
6. A pet fish advisory and free rehoming service - FishOrphans
7. A society for reuniting professional academics and students of fish and ichthyology- Aquarists Reunited
8. A commercial gardening, garden construction, and landscaping service also giving free advice on environmental garden construction - Calypso Landscape

(The Calypso Organization is also a member of the Ethical Junction environmental organization and IFOCAS , the International Federation of Online Clubs and Aquatic Societies)

http://en.wikipedia.org/wiki/Calypso_(mythology)

References
Homer. Odyssey V, and VII.
Apollodorus. Epitome VII, 24.
Hesiod. Theogony ll. 1017-1018.
Lucian. The True History

contact details
Telephone: 020 7281 4948
Mobile Telephone for texts : 07766606824
By Post: Calypso
2 Gatcombe Road,
London N.194PT
Email : SEND US AN EMAIL
company infoRMATION and privacy policy
Welcome to our website. If you continue to browse and use this website, you are agreeing to comply with and be bound by the following terms and conditions of use, which together with our privacy policy govern Calypso's relationship with you in relation to this website. If you disagree with any part of these terms and conditions, please do not use our website. The term 'Calypso' or 'us' or 'we' refers to the owner of the website whose registered office is 2 Gatcombe Road,London N.194PT. Our company ( Calypso Publications ) registration number is London 2225933 1978. The term 'you' refers to the user or viewer of our website. The use of this website is subject to the following terms of use: The content of the pages of this website is for your general information and use only. It is subject to change without notice. This website does not use cookies to monitor particular browsing preferences. If you do allow cookies to be used, no personal information will be stored by us for use by us or third parties. Neither we nor any third parties may provide any warranty or guarantee as to the accuracy, timeliness, performance, completeness or suitability of the information and materials found or offered on this website for any particular purpose. You acknowledge that such information and materials may contain inaccuracies or errors and we expressly exclude liability for any such inaccuracies or errors to the fullest extent permitted by law. Your use of any information or materials on this website is entirely at your own risk, for which we shall not be liable. It shall be your own responsibility to ensure that any products, services or information available through this website meet your specific requirements. This website may contain material which is owned by or licensed to us. This material includes, but is not limited to, the design, layout, look, appearance and graphics. Reproduction is prohibited other than in accordance with the copyright notice, which forms part of these terms and conditions. All trademarks reproduced in this website, which are not the property of, or licensed to the operator, are acknowledged on the website. Unauthorised use of this website may give rise to a claim for damages and/or be a criminal offence. From time to time, this website may also include links to other websites. These links are provided for your convenience to provide further information. They do not signify that we endorse the website(s). We have no responsibility for the content of the linked website(s). Your use of this website and any dispute arising out of such use of the website is subject to the laws of England, Northern Ireland, Scotland and Wales
delivery policy
All orders are GENERALLY acknowledged upon receipt and an approximate delivery/despatch date issued. receipts of despatch or posting are always obtained but despatched items are only registered or insured if an additional fee is paid to provide this service.
terms & conditions
Our Terms are Payment with order. We do not operate any credit facilities. We accept the following payment methods:








Returns: Returns are accepted subject to advance requesting of such a service. Where goods are faulty all costs will be absorbed by us. Where goods are returned by the customer as no longer required or for any other reason other than being faulty goods, the postage originally paid by us will be deducted from any refund processed