NZCOMPLETE GUIDE
ISBN:

0909010854.

Price Group:

Reading Category:
New Zealand Fish: a complete guide
by Chris Paulin, Andrew Stewart, Clive Roberts & Peter McMillan. Published by Te Papa Press. Sixty-four colour photographs include the majority of the most important species. An essential reference work to recreational and commercial fishers, scientists, teachers and students. Soft cover, 279 pages, b&w 6 colour pgs, 21x29

Our Price £51.00 inc U.K.Postage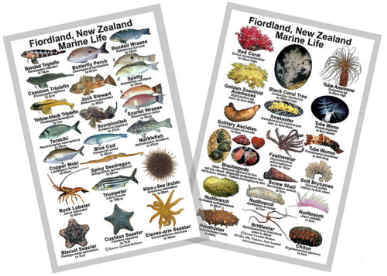 NZ FJORDLAND GUIDE
FJORDLAND - NEW ZEALAND MARINE LIFE

This is a high quality fish Identification card for the area. Printed onto a plastic core which is then laminated, these cards are totally waterproof and more robust than paper laminated versions. Printed on both sides with over 60 high quality images of the most common fish to be found in this area.
£11.00 post paid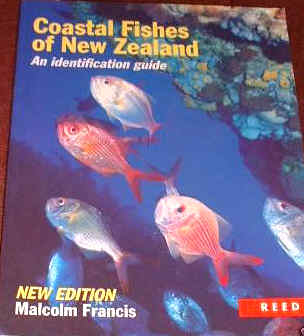 NZCOASTAL
ISBN:
Price Group:
Reading Category:
Guide to the Coastal Fishes of New Zealand
by Malcolm Francis. REED. 72 large pages
Superbly photographed and detailed
ISBN 0 790005 12 3
Price £14.90 plus £2.50 postage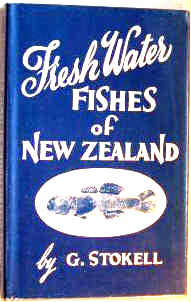 NEWZ
ISBN:
Price Group:
Reading Category:
Freshwater Fishes of New Zealand

. HB. by G. Stockell. pp.146. Simpson and Williams, Christchurch. Very hard to find title.

Our Price including postage £8.50
"Coverage ..deals with the three main groups of sea fishes - jawless, cartilaginous and bony - to be found in New Zealand's 200 mile limit.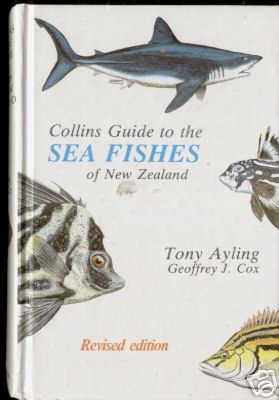 Newzeal
ISBN:
Price Group:
Reading Category:
Collins Guide to the Sea Fishes of New Zealand
by Tony Ayling and Geoffrey J. Cox. HB
Usual superb Collins Guide Format. Very uncommon book due to limited print run. Condition Pretty Good.
Our Price £15 plus £4.30 postage

Arrangement - This follows the taxonomic groupings in the presumed evolutionary sequence.size = 13 X 20 cms

Treatment - ...lists and illustrates 170 families; provides keys to the salient identification points. Covers 486 species, with fullest information available on size, growth rates, feeding, breeding, distribution and habitats..."
Well illustrated
343 pages.