Other Family Species Pages
{INDEX TO FAMILY PAGES}
[ Anabantids ] [ Catfishes / Loaches ] [ Cichlidae ] [ Coelacanths ] [ Danios /Tor / Characins ] [ Killiefish ] [ Livebearers ] [ Marine Fishes ] [ Stingrays and Piranhas ] [ Rainbowfish ] [ Seahorses /Pipefish ] [ Sharks ] [ Trout and Salmonids ]
Price Groups: A = 1p to £5 B = £5.01 to £10 C = £10.01 to £15 D = £15.01 to £25 E = £25 to £30. F = £31 to £50 G £51 to £99. H = Over £100
Sharks and Rays - 26 Titles
SHARKS3

ISBN:

0 8317 9579 4

Price Group:

B

Reading Category:

SHARKS

by Lee Server. World of Nature Series by Time-Life

HB. Gallery Books NY. Superb Photography with 75 beautiful plates

£7.50 plus £3 UK postage

RED SEA SHARKS

ISBN No:

PRICE GROUP:

C

READING LEVEL

All ages

RED SEA SHARKS - A Divers' Guide in Full Colour by Jeremy Stafford Deitch.

An in-depth guide!

1999 PP 96

Our Price £11 plus £3.90 UK postage

ReefSharks

SHARKS

ISBN:

1-57785-538 -8

Price Group:

D

Reading Category:

Lower price than:

Reef Sharks and Rays of the World .

A superb fully colour illustrated accurate identification guide to these species by Scott W. Michael

108 pages.

Our Price £16.00 plus £3 postage in UK

SHARKS RAYS ELASMOBRANCH GUIDE

ISBN:

3925919333

Price Group:

E

Reading Category:

All Ages

World Guide to Sharks and Rays





By Helmut Debelius

Beautifully illustrated photographic guide to the elasmobranchs of the worlds oceans. A must for those with a special interest in sharks and related species.


£28.99 plus £3part UK Postage

Sharks Brit Seas

ISBN:

9780955869402

Price Group:

B

Reading Category:

All Ages

Sharks in British Seas

Richard Peirce

ISBN:

9783899371321

Price Group:

F

Reading Category:

All Ages

Field Guide for Sharks of the Genus Carcharhinus

Matthias Voigt and Dietmar Weber

This DVD is also available as a single DVD (not part of a boxed set of three as seen on the DVD page.) Singly £9.99 including UK postage

GREAT WHITE SHARKS

This DVD is also available on the DVD page. Click this text for a link

FAO SHARKS2

ISBN:

9251045437

Price Group:

B

Reading Category:

Sharks of the World. An Annotated and Illustrated Catalogue of Shark Species Known to Date. Vol. 2. Bullhead, Mackerel and Carpet Sharks (Heterodontiformes, Lamniformes and Orectolobiformes).

FAO. 2001. 30cm. Pp.viii,269. 163 figures, many maps, tables. Softbound with jacket. This volume reviews all 15 families, 25 genera and 57 species of living bullhead, mackerel and carpet sharks (orders Heterodontiformes, Lamniformes and Orectolobiformes - the non-carcharhinoid galeomorph sharks), including certain well-established but currently undescribed species mainly from Australia. Vols. 1 and 3, are due soon.
Price: £19.00 (only includes UK postage)
FAO SHARKS RAYS

ISBN:

9251050457

Price Group:

E

Reading Category:

Field Identification Guide to the Sharks and Rays of the Red Sea and Gulf
of Aden

FAO Species Identification Guide for Fishery Purposes - 2004 EN

Price: £29.90 plus £3.00 part UK postage

Also available on CD, Zip or download

Red Sea ID Charts

ISBN:

Price Group:

E

Reading Category:

FAO Identification Sheets. Red Sea Sharks

£28.00

Slight despatch delays as this title will be shipped from California direct to you

ISBN:

Price Group:

E

Reading Category:

N-958 Sharks of the World

by Leonard Compagno, Marc Dando, and Sarah Fowler paperback, 2005, 480 pages, 5 x 7, 128 color plates, 500 line illus., 500 maps £27.99 plus £4.50 postage

.Everyone ' s heard of the Great Whites. But most people know little of the hundreds of other types of sharks that inhabit the world ' s oceans. Written by two of the world ' s leading authorities and superbly illustrated by wildlife artist Marc Dando, this is the first comprehensive field guide to all 440-plus shark species. Color plates illustrate all species, and detailed accounts include diagnostic line drawings and a distribution map for each species. Introductory chapters treat physiology, behavior, reproduction, ecology, diet, and sharks ' interrelationships with humans.

More than 125 original full-color illustrations for fast and accurate identification of each shark family Over 500 additional drawings illustrating physical features from different angles Clear identification information for each species with details of size, habitat, behavior, and biology Quick ID guide helpful for differentiating similar species.Geographic distribution maps for each species

MEDSHARKS

ISBN:

92-5-105291-3

Price Group:

C

Reading Category:

Field identification guide to the Sharks and Rays of the Mediterranean and Black Sea

By: Fabrizio Serena
FAO Species Identification Guides for Fishery Purposes
Rome, 2005, 136 pp.
ISSN 1020-6868
TC/M/Y5945/E
US $22.00 plus postage at cost from Rome

SHARKS2

Lower price than:

ISBN:

No ISBN No,

Price Group:

B

Reading Category:

Sharks of the World

Rodney Steel, a former assistant scientific officer of the department of Palaeontology at the British natural history museum, (BMNH) looks at all the major groups of sharks, at fossil sharks and at the ecological position of this ' Wolf of the sea' in today's world. Every Shark you have ever heard of - and more - is described in this fascinating insight into the alien ocean habitat of sharks and their relatives. HB Dust Jacket 192 pp.

Our Price £5.50 plus £3 UK postage


ISBN:

1-57524-269-9

Price Group:

Reading Category:

UNDERSTANDING SHARKS

English and German Editions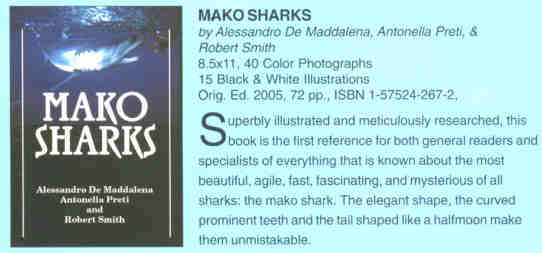 MAKO £21 including postage
Some further references and reading on Sharks
THE TITLES BELOW ARE AVAILABLE FROM US BUT ARE SHIPPED FROM OUR U. S. PARTNERS IN CALIFORNIA. PLEASE ENQUIRE ( EMAIL ) FOR FURTHER DETAILS AND POSTAGE RATES
Shark book and Books , Sharks and Rays. Tropical Shark books, Red Sea Sharks, Rays, Tropical Shark books,Sharks , shark books, Books, Sharks and Rays. keeping Sharks books



N-890 Aquarium Sharks & Rays by Scott W. Michael An Essential Guide to Their Selection, Keeping, and Natural History 2001, hardback, 256 pages $28.95


N-790 The Encyclopedia of Sharks By Stave and Jane Parker 1999, paperback, 192 pages, many color photographs $24.95
Contents
Talk About Sharks Shark Success Ecology and Biology Sense and Supersense
Design for Living Design for Killing More Sharks – or Fewer?
Shark Classification Seeing Sharks Glossary Index

Great White Sharks The Biology of Carcharodon carcharias By Klimley and Ainley 1996, 517 pages
N-478HB hardback $79.95


N-896 Hawai'i's Sharks and Rays by Gerlad L. Crow and Jennifer Crites 6 in. x 9 in., 204 pages, paperback $15.95

Explore the fascinating world of Hawai'i's sharks and rays. Sharks and Rays of Hawaii features more than 400 color photos and individual fact sheets on all 40 species of sharks and 9 species of rays found in Hawaiian waters. It also covers shark anatomy, their incredible senses, how they reproduce, the importance of sharks in Hawaiian culture, the dynamics of keeping sharks and rays in public aquariums, which sharks are protected around the world and how fisheries are depleting shark populations, as well as first-hand accounts of shark encounters.


N-451 The Natural History of Sharks By Thomas H. Lineaweaver III and Richard H. Backus Straightforward facts and photos for the general reader. "A book of fearsome fascination."-The Wall Street Journal 256 pages, 1970, paperback, 6" x 9" illustrations. $14.95


N-686PB Savage Shore: Life and Death with Nicaragua's Last Shark Hunters By Edward Marriott 288 pages, paperback $17.95
A compelling story of sharks, the men who hunt them, and a primeval world on the edge of destruction. Nicaragua's Atlantic Coast is home to the most Dangerous of fish, the bullshark, a lethal predator with a fearsome appetite and the only shark that swims in inland waters. Braving Nicaragua's hurricane-torn wilderness of mangrove swamps and brackish lagoons, Edward Marriott joins the last surviving shark fishermen—a fierce ethnic brew of black Caribs, Nicaraguan Indians, and the descendants of seventeenth-century English pirates—to sail in a dugout canoe and fish for shark with a handline. As Marriott charts the life of the bullshark, its migrations, its voracious feeding patterns, and the treasures it offers—oil for vitamins, hide for leather, and fins for soup—he reveals lives spent in fear and awe in the shadow of a monster that can sniff fresh blood a mile away. He also tells a tale of human greed: an elemental community, battered by civil war and natural disasters, is now degraded beyond repair to provide bounty for modern-day pirates. A gripping narrative of risk and adventure, a poignant record of loss and corruption.


N-694 Shadows in The Sea The Sharks, Skates, and Rays By Thomas B. Allen
A fully updated edition of "an invaluable volume for shark freaks."-Peter Benchley paperback, 354 pages, 1996, illustrations $18.95


N-695 The Shark ALMANAC By Allen, Thomas B. A fully illustrated natural history of sharks, skates, and rays. hardback, 274 pages, 1999, color and black and white photos (Lyons Press) $35.00
Thomas Allen takes us through the evolution of the shark, its folklore, its commercial uses, and gives us a detailed look at shark attacks-where they happen, why, and how to protect yourself from them. He describes the behavior, appearance, size, and distribution of over one hundred shark species, and provides helpful scientific illustrations.

N-325 Sharks A comprehensive survey by some of the world's leading shark experts, they discuss shark habits and habitats, evolution, biology, and behavior, and they present the facts about shark attacks, including how to repel and prevent them. 200 color photos. 240 pages $35.00

Sharks by Stoops and Stoops 80 pages (all in color).
N-428PB paperback $9.95
N-429HB hardback $16.95


N-883 Sharks by Andrea and Antonella Ferrari 2002, paperback, 256 pages, 450 color Photographs, drawings, range maps, bibliography, useful web sites and practical information. $24.95

A comprehensive illustrated guide to the appearance and behavior of 120 species of sharks and rays

Universally recognized and feared, these magnificent creatures are the oldest and most perfect hunters of the sea. This concise and informative guide is illustrated with hundreds of photographs of sharks and rays in their natural environment. Essays on history, biology and ecology accompany the text.


N-371 Sharks in Question, The Smithsonian Answer Book by Victor G. Springer and Joy P. Gold This book will reduce the inaccurate dogma about this unique and intriguing group of vertebrates. Although aimed primarily at the general public, it has a place on the shelves of professional ichthyologists as well. -- Quarterly Review of Biology. 1989, paperback, 192 pages. 58 color, 25 b&w, 30 line illustrations $19.95


N-581 Sharks Of The World by Rodney Steel, 1998, paperback, 192 pages, 40 color illustrations., 80 b/w illustrations $17.95
Ever since the hit film Jaws, the terrifying image of the shark as a mindless killing machine has firmly imprinted itself on many of us. But with their large brains and extraordinarily keen sensory perception, sharks have a more sophisticated physiology than previously thought. Take a "dive" into shark-infested waters to watch and understand their behavior patterns. Very adaptive, they act in accordance with the demands of feeding and reproduction. The breeds range from the tiny (6 inches) Squaliolus laticaudus to the famed White Shark, who can measure 39 feet. Many live primarily on fish, though they will attack unfortunate humans who cross their path, as a number of stories recounted here prove. Incredible photographs offer a glimpse into the shark's wide jaws and toothy mouth, and of an incredible variety of species, including the handsome zebra shark, sand tiger, and nurse shark. An informative view of a much misunderstood creature.


N-959 The Shark-Watcher's Handbook: A Guide to Sharks and Where to See Them by Mark Carwardine and Ken Watterson 2002, paperback, 287 pages, 6 x 9, 60 color photos, 25 color illus, Many color maps. $19.95
Hundreds of thousands of people have an intentional encounter with sharks every year, and shark-watching has become a multi-million dollar business. The ultimate shark-watcher's guide, this comprehensive and ground-breaking book is essential reading for any marine enthusiast who wants to navigate the waters of those who consort with sharks.
The Shark-Watcher's Handbook covers everything you need to know about sharks and shark watching: the history, techniques, risks and controversies; a thorough overview of shark natural history and biology; the many threats facing sharks and how snorkelers and divers can help; and even how to get good shark photographs, safely. There is also an extensive, fully illustrated directory of the twenty-four species most commonly encountered by shark watchers. Each entry includes important information on natural history, classification, diet, reproduction, behavior and range; and there are special sections on identification, the potential danger to divers and good places for a close encounter.
The book includes the first detailed directory of more than 250 of the world's shark-watching hotspots, with a detailed description of each site and information on everything from the species most likely to be seen and the best time of year to visit to contact details for further information and travel notes.
Whether you're a professional diver, someone contemplating your first close encounter with a shark, or the sort of person who prefers to view these extraordinary animals in the pages of a book, The Shark-Watcher's Handbook is an attractive, invaluable, and utterly fascinating guide to the underwater world of sharks.
Mark Carwardine is a zoologist, writer, photographer, and broadcaster. He is the author of Last Chance to See and The Guinness Book of Animal Records. Ken Watterson is a research scientist and Churchill Fellow, and founder of the Basking Shark Society.
TABLE OF CONTENTS:
1 Shark Diving
Chumming and baiting 10
Is shark diving acceptable ecotourism or unacceptable and dangerous exploitation? 11
Planning a shark dive 18
2. How Dangerous are Sharks? The International Shark Attack File 24
How many people are attacked? 24
Why do sharks attack? 25
Where do sharks attack? 27
Shark attacks on divers 29
Dangerous sharks 30
Reducing the risk 31
Shark repellents and protection 34
Learning from an 'inevitable' attack 36
Shark attacks in perspective 37
3. Shark Photography
Cameras 40
Lenses 42
Film 44
Exposure 44
Artificial flash 45
Backscatter 46
Get close. . . and then get even closer 47
Composition 47
Safety 48
4. The World of Sharks
Origins and ancestors 51
Classification of sharks 54
The perfect body 58
Sensing the environment 60
The ultimate predator 65
Making more sharks 69
Shark research 73
5. Shark Conservation
Shark finning 80
Shark skin, meat, liver oil, cartilage and other products 85
How divers can help 87
6. Shark Directory
Shark identification 89
Naming the parts of a shark 91
Sand tiger shark 92
Thresher sharks 94
Baskingshark 96
Shortfin mako shark 98
Great white shark l00
Scalloped hammerhead shark 102
Great hammerhead shark 104
Caribbean reef shark 106
Oceanic whitetip shark 108
Silky shark 110
Dusky shark 112
Galapagos shark 114
Grey reef shark 116
Silvertip shark 118
Blacktip reef shark 120
Bull shark 122
Bronze whaler shark 124
Lemon shark 126
Tiger shark 128
Whitetipreef shark 130
Blue shark 132
Whale shark 134
Nurse shark 136
Zebra shark 138
7. Directory of Shark-watching Sites
Maps 142-53
Introduction 154
North America and Mexico 155
Central and South America 175
The Bahamas and the Caribbean 187
Europe 202
East and Southern Africa 205
North Africa and the Middle East 214
Asia 221
Mauritius 234
The Seychelles 235
The Maldives 238
Australasia 248
Pacific Islands 268

Endorsement:

"Every diver should have a copy of this book. It's the most comprehensive and best-researched guide to diving and snorkeling with sharks--providing everything you need to know in order to experience some of the most awe-inspiring and breathtaking underwater encounters anywhere in the world."--Graeme Gourlay, Editor in Chief, Dive

N-761 Sharks & Rays Elasmobranch Guide of the World Pacific Ocean, Indian Ocean Ocean, Red Sea, Atlantic Ocean, Caribbean, Artic Ocean by Ralf M. Hennemann Hardback, 2001, over 600 photographs of elasmobranches taken in their natural habitat, 304 pages $53.95


Books On Sharks and Rays. Tropical Shark books fish book, tropical fish book, FAO books, aquarium book, Area fish guides, European Fishes. tropical Books On Sharks and Rays. Tropical Shark books Sharks and shark books, bookshop, Aquarium Books, Seashore Fish, Fish World, Bookstore,Jennings