Ethel and Patsy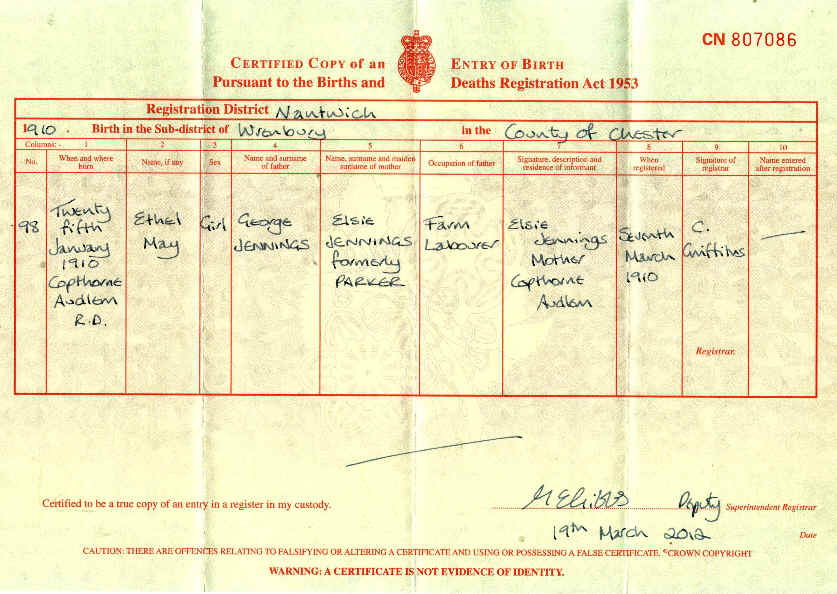 The family has lost complete contact with Ethel and her daughter Patsy (Patricia Stinson )
Ethel died when Patsy was very young and her father and herself moved away from the rest of the family but our researcher has just uncovered this article with its intriguing connectivity
"Karsh portrait never far from Patricia Stinson
By Michael Purvis
Updated 6 months ago (Sep 2011)
Patricia Stinson was wearing a brand new dress made by her aunt when she arrived at the photographer's studio.
Yousuf Karsh would have none of it.
"He took it right off and there I was," said Stinson, recounting the photo session, some eight decades ago, that resulted in a portrait of her as a bare-shouldered child.
Stinson, who declined to reveal her exact age, estimates she was around three at the time the photo was taken in the mid 1930s.
She and her family were living in Ottawa, and Karsh was still several years from becoming the world-renowned portrait photographer he would be.
It wouldn't have been unusual for someone to get a portrait like the one Stinson has - Karsh is said to have offered a discount for local clients during his early days in Ottawa - but it was unusual enough to catch the interest of Brian Tremblay, a local photographer, when Stinson mentioned it.
Tremblay, who is "infatuated," with Karsh's work, asked Stinson to come by his studio with the portrait a few weeks ago so he could photograph her with it as part of his personal work.
Tremblay said some would call Karsh's portraits "stiff," by today's standards, but he said it is a style that stands the test of time.
"He is what photography, what I still think it should be," said Tremblay, who will be teaching studio equipment and lighting in the fall as part of Sault College's digital photography program.
"You could take Karsh's commissioned portraits and hang them in a gallery," said Tremblay.
Stinson and her husband, Deane, moved to the Sault in the early 1960s. The portrait has always travelled with her, though she mostly keeps it safely tucked away.
Stinson said she knows little about the photo, or the reason she was taken to Karsh. Her mother was ill at the time and it would have been an aunt and a family friend who brought her to the studio.
"My parents would have paid a mint for it," said Stinson.
Karsh, who was catapulted to fame with his 1941 portrait of Sir Winston Churchill, would go on to create iconic photos of the likes of Humphrey Bogart and Albert Einstein. He would have only recently left his apprenticeship with Boston portrait photographer John Garo at the time he photographed Stinson in his second-floor studio on Ottawa's Sparks Street.
Stinson is the first local person Tremblay has come across who has been photographed by Karsh, but she isn't the only local connection.
Karsh became pen pals with a local teen named Penny Johnson in the 1990s after she wrote him a letter as part of a school project. Johnson was asked to play piano at Karsh's memorial service in Ottawa the year he died in 2002 at the age of 93.
Decades earlier, Karsh turned his camera on Algoma, stopping in the Sault in 1970 while on a series of assignments photographing Northern Ontario for the province's tourism bureau. The Sault Star interviewed him at the time. The story notes Karsh travelled to Agawa Canyon by train and photographed the locomotive's conductor. "