All records between 1400 and 1783 have one verification which is usually a marriage or christening. All entries since 1783 have at least two verifications even if they are not stated on the records here. We also have quite a few additional records from all branches of the "whole family" which are not shown awaiting verifications
Family tree research is often devious and convoluted in its machinations due simply to the amount of tree branching which occurs over the years. This site is unfortunately no exception but to minimize this and trace direct lines of ancestry the following parameters have been applied:
There are two groupings of available data on this site.
1. The main Jennings lineage
2. The Cramer-Thornton Canadian lineages which include all Canadian descended lines
On the main JENNINGS lineage only direct ancestry has been included, albeit with a limited amount of side tree branching - even so over 660 individuals are recorded so far, Prior to the 1750's Jennings is sometimes spelt using the variations Jenings or Jenyns
THE Pre-TUDOR PERIOD IN ENGLAND
Earliest CURRENT DOCUMENTED USE OF THE NAME JENNINGS ON OUR TREE 1460 It was about this time that Charles JENYNS is born. ( as of February 2017) :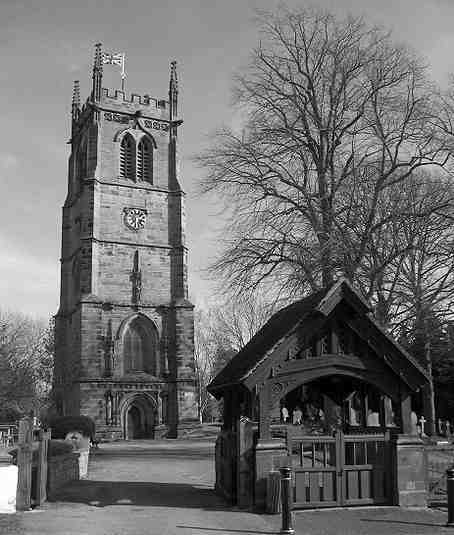 ST. CHADS, WYBUNBURY
2. On the CRAMER-THORNTON lineage ( tracked back to Germany in 1617) a great deal of research was undertaken by relatives other than the cousins who collated this main site. We have attempted to doubly verify all reproduced data and have omitted a vast amount of unverified data. This section is incomplete until we receive an updated Thornton ancestry
3. Names of towns and counties are as shown in the records consulted. This can vary as - for example, South Cheshire and North Shropshire are only separated by fields in many areas - some fields even cross the boundary which itself has moved over the years. Some villages and townships have frequently been redesignated.
4. Names have often been anglicized. The CRAMER-THORNTON lineage is extremely mixed with ancestors from at least six different countries (Germany, France, Ireland, Scotland, England, U.S.A.) So Kramer=Creamer=Cramer=Kremer and Clapper=Klapper
5. All descendants of Donald Jennings ( 1924 - 1993 )have been temporarily redacted
6. To prevent abuses of our data many extant Canadian members have not been listed
Many of the areas that seem to recur throughout many of the earlier Jennings family records from Shrewsbury and Cheshire are physically connected by a railway line. Shrewsbury - Wem - Whitchurch - Wembury (for Audlem and Didcott-cum-Wilkesley),- Nantwich and prior to the family diaspora in 1912 this seems to have played a major role in work and housing locations as many of the older records are situated along this very rural track traversing a vast expanse of farming country spotted with grand houses and many older recorded professions are farming or service related. There is also a water transport connection as almost all locations are either on the river Severn or the Shropshire Union Canal which connects to the River Weaver and the River Severn.
The individuals of the named families connected in the Jennings current tree are numbered in parenthesis. Data on many living individuals has been restricted or omitted
PRIMARY families connected directly to the Jennings tree are listed below, but for a FULL llist of families interconnected with the many Jennings branches please follow this link.
(This does not include many primary families directly connected to the Cramer-Thornton lineage for which you will need to go to the following page. - CRAMER-THORNTON)
ACRES (1), ADAMS(30),BAILEY (1) , BANKS (2) , BARTLEM (1) , BAXTER, BEESLEY (2) , BENDY (1) , BENNETT (1) , BESFORD (1) , BINCKLEY (1) , BLAND (3) , BLOCKSIDGE (8) , BRAGG (7) , BRIDGER (1) , BRIGHT (2) , BRITTAN (1) , BROMFIELD (1) , BROOM (13) , BROOMFIELD (6) , BROWN (14) , BUNN (1) , BYRNE (1) , CALLAGHAN (1) , CAVANAGH (1) , CLARKE,(1),CONIBEAR (1) , COOK (1) , COTTAM (1) , COWEN (1) , COX (1) , CRAMER and variant spellings(4) , DALE (4) , DALLOO (1) , DELVES (1) , DESPINS (5) , DICKENS (1) , DJWEIDA (9) , EASTABROOK (8) , EVANS (1) , FORD,(1),GARDNER (3) , GARNER (2) , GENNOE (9) , GIBBONS (13) , GILBERT (2) , GREEN (1) , HADAD (5) , HALL (1) , HALLWORTH (1) , HARLEY (2) , HARVEY (16) , HASSALL (9) , HENSHALL (1) , HOBBS(1), HOLLAND (1) , HOLT (1) , HONOUR (1) , HUDSON (1) HUGHS (1) , ISTEPHAN (3) , JAMES (1) , JENNINGS (94) , JOHN.THORNTON (2) , JONES (9) , KATUSHA (1) , KILANO (10) , KING (1) , KNAPP (4) , KNIGHTLEY (2) , LEWIS(5).LOCKET (1) , LOCKETT (7) , LORD (2) , MAGILL and variant spellings (50) , MALAM (3) , MANSI (1) , MAXAM (MAXIM)(17) , MAYES (1) , MCALPINE (3) , MR.HOBBS (1) , MR.PARKER (1) , MR.RAZAKA (1) , MR.SPRINGALL (1) , MYERS (7) , NAZARETHIAN (1) , NEAL (5) , NIX (6) , ORCHERTON (5) , PARADIS (7) , PARKER (21) , PARRY (1) , PARSONS (3) , PARSONS (1) , PENLINGTON (2) , PETERS (2) , POWNTNEY (1) PRESTNEY (14) , PRICE (1),PRITCHARD (1) , PUGH (1) , QUIMBY (4) , RAZAKA (6) , REED (1) , RIGBY (8) , ROBERT.GARDNER (1) , ROWLEY (3) , RYAN (13) , SCHEVECK (3) , SCHOFIELD (1) , SMILLIE (3) , SMITH (26) , SPRINGALL (7) , SR (1) , STANTON (1) , STINSON (3) , STOWER (1) , SWAN (1) , TAKTAK (63) , TAYLOR (2) , THELWALL (2) , THOMAS (1) , THORNTON (7) , TRICKETT (1) , TUSHINGTON (1) , (3) , WARD (7) , WARREN (4) , WESSON (1) , WHEATCROFT (1) , WICKS (7) , WILLIAMS (18) , WOOD (1) , WOODBRIDGE (5) , YOUNAN (4) ,